Optimize your international B2B shipments
The Muti-Carrier shipping solution helps business customers to ship their goods within the EU or worldwide.
Do you regularly ship packages or pallets to your customers or to your own branches / warehouses within the EU or to third countries? At LetMeShip, we specialize in B2B shipping so our customers get the best service possible. Often business customers are left alone with their shipping problems. To counter this, an entire team of logistics experts is available to advise you personally when you book through the shipping platform. This means we can respond to your shipping requirements and provide you with direct support if you have any questions about your shipment. While we are still on the phone with you, we can contact the shipping service provider directly and offer you a solution very quickly.
On our shipping platform you can compare prices and delivery times for all your shipments, such as parcels, pallets or documents, from international countries and book your shipment with only a few clicks. You can choose from a variety of reliable carriers with a worldwide transport network, such as DHL, UPS, FedEx and many more which makes international shipping a breeze for you. Whether you ship a lot or a little, registration with us is free and you only pay the cost of your shipping.
Multi-Carrier: Always the right shipping service provider for your international shipping!
At LetMeShip you will find a variety of internationally operating shipping service providers. Flexibly select the transport service provider that best suits your B2B shipping needs!
Austria – Imports and Exports
Austria's import ratios from neighboring countries are particularly high and continue to rise. Germany ranks first, followed by Italy, Switzerland and the Czech Republic. Austria obtains mainly mechanical engineering products, processed goods, metal goods and lubricants and foodstuffs from these countries. For industry in particular, these countries are important investment locations in which Austria maintains branches. This leads to a lively trade in goods within the EU countries and to an increased need for reliable and secure shipping partners. For imports from third countries such as China or the USA, we have compiled additional information and tips for you.
Imports via express
Did you know that an express import to Austria is sometimes cheaper than a standard shipment? Express shipping ensures fast delivery and increases the predictability of your deliveries and entire shipping processes. This is ideal for an import from the nearby neighboring countries.

Whether you are importing from abroad to Austria or exporting goods from Austria, simply enter the destination country on the shipping platform and you will immediately receive an overview of which carriers are available to you. Bureaucratic hurdles are eliminated because all relevant data is requested during the booking process and sent directly on its way via the carrier you have selected. With the shipment tracking function (Track & Trace), you can follow the route of all your international shipments at a glance. Of course, you can also book all your Austria exports via the shipping platform.
As an importer to Austria, you can also find out what you should bear in mind in our free "Import-Checklist – How to import to Austria quickly and easily".
Calculate your costs for international shipments
Shipping packages, pallets and documents internationally
International shipping can involve numerous procedures, bureaucracy and external factors that affect the delivery time of your goods.
Delivery times depend on what you want to ship – weight and size – the distance to the recipient country Austria and the choice of shipping service provider. For Austria, our shipping platform offers you all internationally well-connected CEP service providers (courier, express and parcel) such as UPS, TNT, DHL and FedEx.
In general, goods shipped within the free trade zone have significantly shorter delivery times, because all import duties and customs formalities are eliminated, and the transport routes are shorter. With the integrated shipment tracking (Track & Trace), you are also always up to date on the current location of your shipment.
Ship parcels internationally
International shipping of parcels and packages is the most frequently booked shipping option by our customers. The maximum weight for a parcel is usually 31.5 kilograms. For a conventional parcel shipment, the maximum girth is 300 cm.
Ship parcels via express
Sending parcels by express is the fastest and safest solution. Due to the guaranteed transit times, you can plan the arrival of your goods to the point. Express shipping usually takes between 24 to 72 hours. For international shipments outside the EU, which require customs clearance, it may take longer. To help you keep track of your shipment at all times and compare costs, we have already compiled all carriers for you on our multi-carrier shipping platform.
Special Services for parcels
You have parcels that need to be delivered on the same day (Same Day) or by air freight or that need to be accompanied by an onboard courier? As a shipping partner, we are always available to provide personal advice on this and all other special service requests. Together with you we will always find the right solution.
Ship pallets internationally
You want to send many packages in one shipment to one receiving address? Then a pallet shipment is exactly the right thing for you. You can bundle bulky or unpacked goods or many packages in one shipment so that they arrive intact in Austria. The dimensions of a Euro pallet (full pallet) are 80 x 120 x 15 cm, those of a half pallet 80 x 60 x 15 cm. Maximum weight of a full pallet is 70kg.
The online booking platform allows you to choose between standard or express shipping and to send both full and half pallets. Simply compare the prices of the shipping service providers and book directly online and follow your shipment with Track & Trace on its transport route.
Special Services for Pallets
As with parcels, you also have the option of booking additional special services for pallets via our Special Service. Special services include air freight, same day or the shipment of hazardous goods that must comply with certain regulations. Our team also takes care if you have pallets with special dimensions or if they exceed a certain weight. Please feel free to contact us personally.
Ship documents internationally
When shipping documents internationally, secure delivery is paramount. As with goods shipments, you can easily view the prices of well-known shipping service providers via the price comparison and book directly. Best of all: Due to special contracts, we can offer you international shipping of your documents at lower prices than if you book them directly with a service provider.
A document is anything that fits into an envelope – except for goods. Often, these are urgently needed documents such as contracts, invoices or time-critical tenders that have to arrive reliably in Austria from abroad. To keep track of your documents at all times, simply use the integrated shipment tracking function.
Since international document shipping is always a matter of trust, you have a contact person with us from your very first booking, whom you can turn to personally if you have any questions.
Ship documents via express
Express shipping is recommended for particularly urgent documents. Many of the shipping service providers on our booking platform offer special express services (DHL Express, UPS Express, and many more). This way you avoid time-consuming price comparisons on the websites of the individual shipping service providers and have all carriers including their prices and delivery times at a glance.
Delivery times for documents
The transit times for document shipments are usually shorter than for goods shipments, since documents do not have to be cleared through customs. The internationally operating shipping service providers usually offer you short transit times of approx. 1-4 days. If you need your documents to arrive on the same day, we recommend Same Day shipping. Please note that Same Day Service depends on the distance of the country of origin to Austria. If you are not sure which is the fastest option, contact our personal customer service.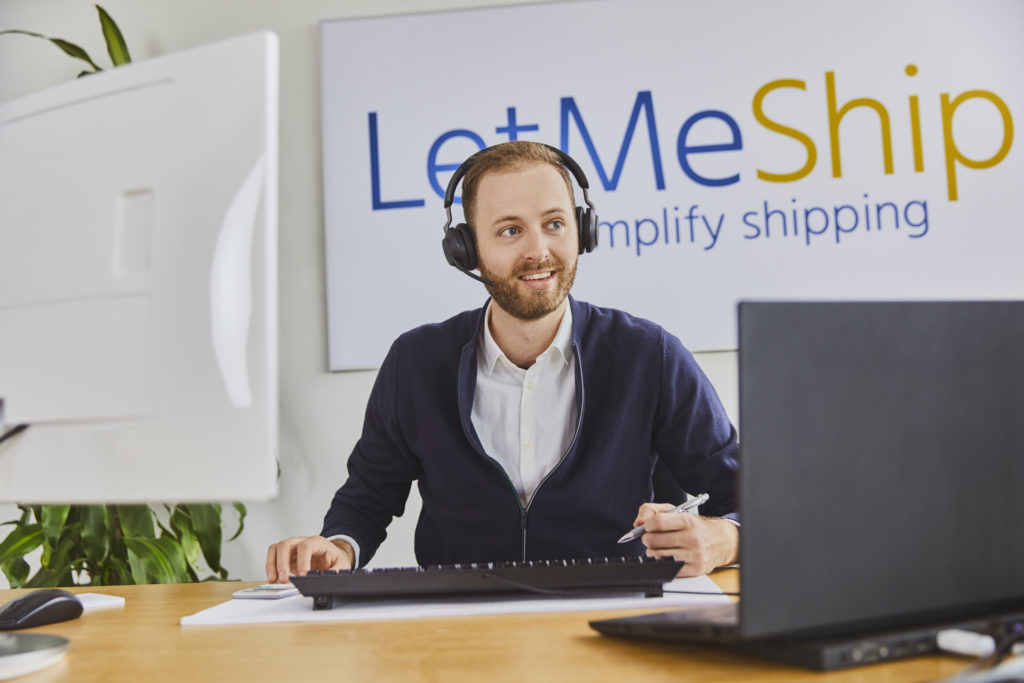 Contact our shipping experts
Do you have any questions about your international shipping or would you like to book one of our special services? Then feel free to contact our Customer Service Team:
  +43 662 234 550 33 or via E-Mail: contact@letmeship.at